Industrial and high-pressure hydrocleaning
Aspireco has been providing hydrocleaning services since the 1980s when this technology was still at an experimental level. Investing in machinery and new technologies has made us more autonomous in cleaning construction sites, roads and concrete surfaces. Our high-pressure hydrocleaning interventions are today in great demand by chemical and petrochemical industries, steel companies, foundries, waste-to-energy plants and in the nautical field (hydroblasting).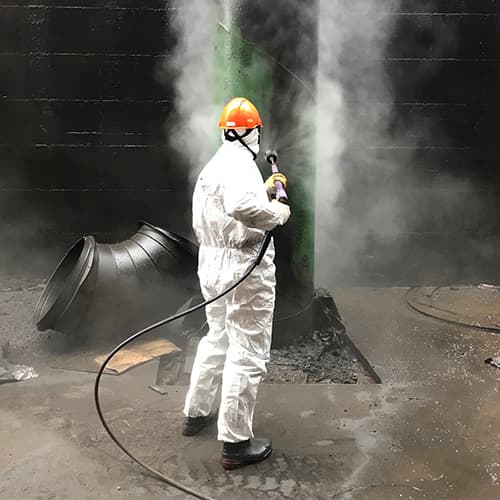 Specific solutions for system cleaning
Hydrocleaning of facades and tanks
Through the action of high-pressure water jets, up to 3,000 bar, we perform hydrocleaning interventions for the facades of buildings, cisterns, tanks, roads and highways.
Hydrocleaning is perfect for removing paints, varnishes and residues otherwise impossible to remove: all through the power of water combined with the best machinery that controls it.
Before proposing hydrocleaning interventions, we do deep inspections to verify the extent of the damage and, above all, which vehicle and technology are best suited to the specific situation.
Our interventions are quick and carried out with care: in the case of an industrial plant, it is essential that, following cleaning, everything returns to operate with maximum efficiency. Our proprietary vehicles allow us to perform scheduled water cleaning and urgent interventions.